The project continues to gather momentum and has an exciting time ahead with the beginning of several new and vibrant multigenerational projects- all of which are linked together by themes of local heritage, built environment and citizenship.
We had a busy lead up to Christmas. Activities included: Youth Drama and Media Panto, MRP Christmas Scavenger Hunt, Multigenerational AiR Christmas Crafts in Fairknowe, Christmas Card Street Scape Competition and work with Carrick Academy in making Traditional Christmas Crafts.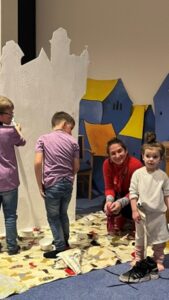 Youth Drama and Media Project
We had a Christmas Panto! Making a Maybole Christmas- a Town's Past, Present and Future. This project was multi-partner project which brought together all 3 Maybole Primary School's P7s to integrate before secondary school. The 55 young participants each earned a Dynamic Youth Award for their input.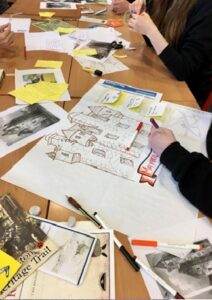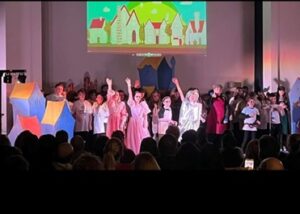 Ice Cream Architecture
Four exciting projects have begun with a splash of colour!
Heritage Trail- Building on existing Trail and having a QR Code at each site which links to a short film clip that will tie in with Youth Drama Project. Also hoping that there will be a tie in with Artist in Residence to create a piece of art along the way.
Mapping and Recording Project- looking at how the town has shaped and evolved. This will have tie into the heritage trail and will also be displayed in the book of memories.
Book of Memories- Lovely multigenerational project where younger people will be working with older people to share memories and photographs of Maybole in years gone by.
School Shop Fronts Project- Working with all 9 North Carrick Schools to look at changing High Street and Shop Front Design and bringing ideas to life on one of the shops in the High St.